Saeborg
Born in Toyama in 1981
based in Tokyo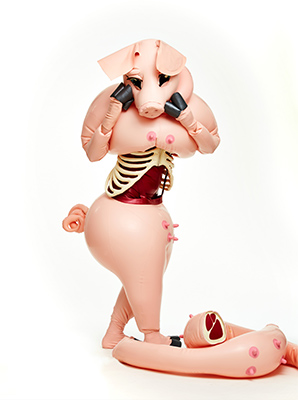 Profile
Graduated with a BA in Fine Arts from Joshibi University of the Arts and Design in 2006.
Recent exhibitions and performances
2023 "Middlesbrough Art Week," England
2023 "Theater der Welt," Frankfurt and Offenbach, Germany
2022 "Theater Commons Tokyo '23," Various places in Tokyo
2022 "Ultra Unreal," Museum of Contemporary Art Australia, Sydney
2021 "New ways to grow: Artists envision a post-Covid world," The University Art Museum, Tokyo University of the Arts
2021 "Reborn-Art Festival 2021-22," Oshika Peninsula (Momonoura), Miyagi
2021 "Riga Performance Festival: 'Starptelpa,'" Online, Riga, Latvia
2021 Solo Exhibition "LIVESTOCK" PARCO MUSEUM TOKYO
2020 Solo Exhibition "Cycle of L," The Museum of Art, Kochi
2019 "Slaughterhouse 17," Match Gallery, Ljubljana, Slovenia
2019 "Aichi Triennale 2019: Taming Y/Our Passion," Aichi Prefectural Art Theater
2019 "DARK MOFO," Avalon Theatre, Hobart, Australia
2018 "The 6th Athens Biennale: 'ANTI,'" Banakeios Library, Athens
2018 "Fantastic: The Abyss," Club80, Melbourne
2018 "Tag: Proposals On Queer Play and the Ways Forward," Institute of Contemporary Art, University of Pennsylvania, Philadelphia
2016 "Roppongi Art night 2016 'Saeborg Exhibit 'Pigpen,'" Roppongi Hills A/D gallery, Tokyo
2015 "NOKEMONO ANIMAL KIMI TO IKIRU," HAJIMARI ART CENTER, Fukushima
2015 "TURN," TOMONOTSU MUSEUM, Hiroshima
2015 Solo Exhibition "17th Toshiko Award Exhibition 'HISSS,'" Taro Okamoto Memorial Museum, Tokyo
2015 Solo Exhibition "Slaughterhouse-13," Joshibi galleria nike, Tokyo
2014 "Tokyo Rainbow Pride 2014 'Slaughterhouse-10,'" marching through Yoyogi, Shibuya and Harajuku areas
Awards
2014 "The 17th Taro Okamoto Award for Contemporary Art," Toshiko Award
Saeborg is an imperfect cyborg that is half human and half toy. In performances and exhibitions both in Japan and abroad, Saeborg creates latex bodysuits through which she can artificially transcend physical characteristics such as age and gender. In her performances, she employs colorful and deformed representations of insects and livestock, including female cattle and pigs. These performances at first seem bright and playful, but they touch on issues of human cruelty and animal consumption as well as social issues like nursing and care. Her work defies characterization by simple dichotomies of strong and weak or benefactor and beneficiary, facing head-on the issues of coexistence and acceptance of diversity.
Chair of the Selection Committee Comment
As a jury, all of us have taken the process of artist studio visits very seriously. Thanks to the superb organization of TCAA team, both on-site and on-line jury members have a very comprehensive view and understanding of each artist's practice. We listened to the artists with great patience and asked specific questions in relation to their works and thoughts. These exchanges and deep engagements make this award much more than a final outcome of who wins but a meaningful learning experience for the jury members and hopefully the artists as well.
As usual, the deliberation process is one with careful reflections and reviews of the studio visits. Both Japanese and overseas jury members exchanged candid views about the works of Japanese artists as well as helped each other understand these works from a different perspective. The discussion was also much more than determining a result, but an in-depth contemplation of the relevance of artistic practices in a changing global context today.
Carol Yinghua LU
Reasons for the Award
Exploring the possibilities for healthy coexistence between humans and other living organisms is one of the urgencies that artists in the wake of COVID-19 and ongoing global warming. Since the start of her career, Saeborg has pursued the politics of life and emotion that surround the treatment, reproduction, slaughter, and consumption of animals through performances that caricature the relationship between humans and livestock. Representing ontological questions through brightly colored toy-like latex costumes and stage, her works leave her audiences feeling disorientated due to the serious subject matter and bright, casual visuals. At the same time, she reminds her audiences of the innocent cruelty of those who treat the lives of animals as a commodity. Her works, including public performances in which she views the physical body as sculpture, are infectiously dynamic and filled with symbolism, provocation, and poignant criticism.
Saeborg also sees the "care" that her performers inevitably require from wearing highly restrictive bodysuits as a positive thing, questioning our perception of social relationships and challenging stereotypes of strength and weakness as well as benefactor and beneficiary. Moreover, the selection committee recognizes Saeborg's longstanding commitment to social inclusion, which is inseparable from her attitude of respecting all life equally in her artistic practice, as something we can all relate to as we strive to become a society that truly accepts diversity.