YAMASHIRO Chikako
Born in Okinawa in 1976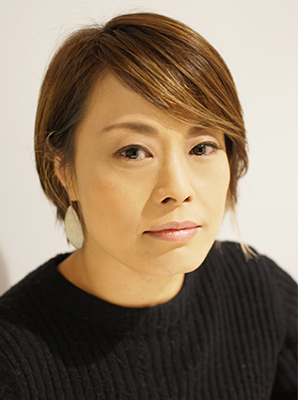 http://ycassociates.co.jp/artists/2019/03/20/218/
Profile
Graduated with an MA in Environmental Design, Graduate School of Formative Arts from Okinawa Prefectural University of Arts in 2002
Recent exhibitions
2023 Solo Exhibition "Chikako Yamashiro: Flowers of Belau," Marugame Genichiro-Inokuma Museum of Contemporary Art, Kagawa
2022 "JAPAN. BODY_PERFORM_LIVE: Resistance and Resilience in Japanese Contemporary Art," Padiglione d'Arte Contemporanea, Milan
2022 "Resonance of Distance a two-person show by Ryudai Takano and Chikako Yamashiro," Yumiko Chiba Associates, Tokyo
2022 "17th Istanbul Biennial"
2022 "Collection1: Faraway Places / Nearby Places," The National Museum of Art, Osaka
2022 "Hawai'i Triennial 2022," Honolulu
2021 Solo Exhibition "Yamashiro Chikako: Reframing the land / mind / body-scape," Tokyo Photographic Art Museum
2020 "Listen to Her Song," (The Chinretsukan Gallery, Tokyo University of the Arts)
2019 "Image Narratives: Literature in Japanese Contemporary Art," The National Art Center, Tokyo
2018 "Kyoto Experiment 2018, Kyoto International Performing Arts Festival" 'Mud Man' (Exhibition) , And I Go through You (Performance), Kyoto Art Center
2018 Solo Exhibition "Shapeshifter," White Rainbow, London
2018 "Azamino Contemporary vol.9 Uncertain Landscape," Yokohama Civic Art Gallery Azamino
2018 "The Special Exhibition of the 70th anniversary of Jeju April 3rd massacre : Post Trauma," Jeju Museum of Art, Korea
2018 "Asia Pacific Breweries Foundation Signature Art Prize 2018," National Museum of Singapore
2017 Solo Exhibition "The Sea of Being," RENEMIA, Okinawa
2016 "From Generation to Generation: Inherited Memory and Contemporary Art," Contemporary Jewish Museum, San Francisco
2016 "SEVEN JAPANESE ROOMS," Fondazione Carispezia, La Spezia, Italy
2016 Solo Exhibition "The Beginning of Creation: Abduction/ A Child," Yumiko Chiba Associates viewing room, Tokyo
2016 "Aichi Triennale," the former Meiji-ya Sakae Building, Nagoya
2015 "The 8th Asian Pacific Triennial of Contemporary Art," Queensland Art Gallery | Gallery of Modern Art, Brisbane, Australia
2015 "East Asia Feminism: FANTasia," Seoul Museum of Art
2012 "Women In between: Asian Women Artists 1984-2012," Fukuoka Asian Art Museum, Okinawa Prefectural Museum & Art Museum, Tochigi Prefectural Museum of Fine Arts, Mie Prefectural Art Museum
2012 Solo Exhibition "MAM Project 018:Chikako Yamashiro," Mori Art Museum, Tokyo
2010 "'Radiant Moments' The New Snapshot Contemporary Japanese Photography, vol.9," Tokyo Metropolitan Museum of Photography
2010 Yebisu International Festival for Art & Alternative Visions: "Searching Songs," Tokyo Metropolitan Museum of Photography
Awards
2022 "The 72nd Minister of Education Award for Fine Arts," The New Face Award
2020 "The 31st Takashimaya Art Award," Takashimaya Cultural Foundation
2018 "The 64th International Short Film Festival Oberhausen," ZONTA Prize
2018 "The Asian Art Asia Pacific Breweries Foundation Signature Art Prize 2018," nominated as Signature Art Prize
2017 "Asian Art Award 2017 supported by Warehouse TERRADA," Grand prize
Exploring marginalized voice, body and soul in East Asia region, my works have addressed the subject of identity, border between life and death and metabolism of historical memory. The geo-political situation and history of Okinawa, where I was born and raised, have given strong motivation and parameters in my artistic practice. I have attempted to deliver overheard/looked voices and body of oppressed people and soul and to find the way of reconciliation between nature and human, and Self and the Other through my poetic image and narrative.
I have used photography and video for works using my body and other people's bodies because I believe that they can fuse the border between reality and imagination as well as generate multiple meanings between the image and the audience. Experimenting different film making techniques, such as recycling of found footages, employing voice performance and using multi-channel screens, I continuously challenge to develop potential of moving image and its performability.
Chair of the Selection Committee Comment
In the selection process for this second Tokyo Contemporary Art Award (TCAA), having the six finalists as candidates, we visited the artists' studios and other spaces in Tokyo and the Kansai area, and carried out interviews and intensive discussions for a three-day period. We concluded to award two artists, Fujii Hikaru and Yamashiro Chikako, for the 2020-2022 period. Both made us full of expectations about their conceptions for new work and their making a turn from their practice thus far.
This year the outbreak of the COVID-19 virus meant that some members of the selection committee had to put off their trips to Japan, but the Internet enabled them to take part in the entire selection process and provided a setting for a full discussion. While that experience confirmed that the net, as a means of communication, enabled us to overcome the barrier of distance, to share and deepen our discussion, it also made us painfully aware that unpredictable changes, including disease and disaster, can readily block travel between countries and the sharing of experiences, which had been so simple.
Yamashiro Chikako, as an artist from Okinawa, has continued to explore its history and identity today, employing her own body as her central medium, and is now expanding her practice to places beyond Okinawa. Scrutinizing the omnipresent trauma and pain in every history, she is embarking on new efforts to examin the world as a contiguous place.
KAMIYA Yukie
Reasons for the Award
Yamashiro's video work, an extension of her performances, is appreciated as a highly unique expression that addresses historical issues, through the artist's body, from a perspective that internalizes the issues. She has discovered a new format for the bodily expression she has attempted thus far, one that expands its scale in creating works. Interaction with people in the arts in Japan and abroad will take her work a step up. While thus far she has mainly referred to war and colonialism in Okinawa, her home, she now approaches them as universally relevant issues. She is pushing herself to address topics beyond Okinawa. Given the timing, this award will be an excellent opportunity to support her development.